Roller derby is all about options. You can choose your skates, your outfit, your name, your number, and even the floor you skate on.
4 common skating surfaces are wood, concrete, skate court, and masonite. All have their advantages and disadvantages.
Wood comes from trees. Isn't that nice? Trees that are cut into boards and put into nice, neat rows and coated in this material that causes children to fall down for no reason and skate the complete wrong direction straight at you at skating rinks. Different colored lights and a disco ball or two light the way. Wood is super grippy and pretty loud and if it's not taken care of makes you feel like you're skating in the bowels of a boat out at sea because of all the waves and weird discoloration that you know came from some kid peeing on it. Or beer. Whatever. I like to pretend I'm a pirate pretty much every chance I get, so this is a fun time for me. Wood is good, but usually can only be found IN skating rinks, and skating there isn't so great. There's not a lot of room for fans to sit or for the smell of your farts and/or swampy pads to dissipate.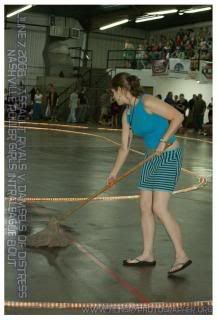 Concrete. Yikes, concrete. It can be good when it's clean, but brutal when it's dirty. Some leagues skate on polished, some on outdoor hockey rinks, and every concrete floor is different. Some are so polished that they require traction to be mopped on to keep you from sliding into the oblivion that is the naughty bits of some poor lady in the suicide seating. Some are so bumpy you need outdoor wheels to survive. Polished concrete is fun because you slide forrrrrrrrrrrreverrrrrrrrr and it allows you to play Derby Bowling, which is a game I just made up. One thing concrete is not is forgiving. If you fall, you will feel it, much like the fatty part of my thumb felt it last night as I slapped down with all my weigh on it. Awesome.
Skate court is pretty cool stuff. It's grippy and requires no maintenance that I've heard of, and you don't slide on it when you fall. The bad side is you have to put it together like puzzle pieces during bout setup because you probably won't be able to just leave it down all the time. But no matter, the surface feels so good it makes up for the time it takes to put it together. Also, it comes in pretty colors so you can pretend you're running around your kindergarten classroom. Paste and construction paper optional.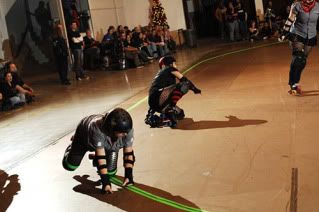 But my absolute favorite skating surface is masonite. Oh man, I have a tiny girl boner just thinking about it. It's grippy AND slick at the same time. Figure that one out. Basically you can skate on it like a dream in whatever wheels you want, but then if you fall you sliiiiide just like on concrete. It's fantastic. The downside is you have to actually tape it together so it won't just slide apart... which it will do anyway, especially during a doubleheader. And it's heavy as... a very heavy thing that I can't think of since I've not actually tried to pick up a piece of masonite. No matter, just know that storage and transport is an issue with this one.
I'm sure there are probably other types of skateable floors out there that I haven't heard about. Do let me and our loyal readers know what these are in the comments section! I'm all for broadening our horizons via brief messages on teh intarweb.